Deck Hand Pietro De Nobili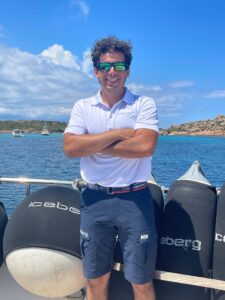 Pietro De Nobili, was born in La Spezia on the 8th of January 1997, with origins in Porto Venere.
He comes from a family of professionals, his mother Susan is a lawyer and his father Iacopo is a Geologist.
Pietro recently attained his degree in Law from the University of Parma, on the 29th of May 2021.
Pietro is a true sport man, he enjoys many outdoor recreational actives such as soccer,
basketball and is an avid skier. His real passion is spending as much time as possible at the sea with his friends and family navigating in and around Porto Venere in his boat.
Because of his love of the sea, he acquired his nautical license in 2019. Pietro continued for many years building his knowledge as a deck hand. Caring on this passion he now is a part of the Luxury Yacht "Iceberg". We are very happy to take him under our wing and help him cultivate his new experiences and strengthen his skills.
Pietro is always available to help you make your stay with us comfortable and relaxing, as you enjoy your breath taking journey in and around the Archipelago of the beautiful "La Maddalena".