The Hostess Francesca Degortes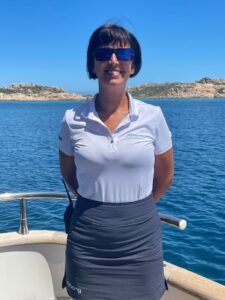 Francesca Degortes was born on the island of La Maddelana found in Sardegna, on the 4th of September 1978.
She is the daughter and niece of first generation seasoned sailors, who were born and raised there.
Francesca studied Accounting in Palau, Sardegna in 1996.
She loves the nature and spends her free time walking on the beautiful beaches of Sardegna
or relaxing with her dad fish off their family boat. But her role as mom for her 3 children always comes first.
Francesca has many years of understanding in the food and drink business, begin with her first practical experience working with her parents in their ice cream shop, producing and eventually running the business for 7 years. Using her vast experience in this sector she was able to open and run several other successful shops in and around La Ma ddelana.
Following her passion for the sea she began working on various Luxury Yachts as a hostess.
Here she was able to share her past experiences in the food and drink sector, creating and developing various specialized dishes and drinks for her clients. Today, the Luxury Yacht "Iceberg" is very fortunate to have such a well-trained and expert member of our crew.
Always with her beautiful smile and bubbly personality, Francesca our gracious hostess, is always ready to make your stay with us on board the Luxury Yacht the "Iceberg "a memorable one.
She will tantalise your taste buds, by preparing delicious tasty dishes that will make you want more.